Mould Design
We can be very accurate and reliable design layout that customers realize what they want. Our designers are highly skilled team not only familiar with Hasco/DME parts,but also own a extensive design experience for various moulds,especially 2K mould. The English communication can be very professional + highly-effective through our project managers, who are all born from designers.(oral+written)
We have been training by our customers,but also have been training our custumers by representing a reliable and secure method/direction. We are still design innovation. We believe that our technology + service will get your trust and support.
Design for Manufacturing(DFM)----troubleshoot any improper design
One stop solution—ability to take products from concept to production
Strong engineering team
3D solid mould design with UG NX 7.0
Mouldflow simulation
Sophisticated mould concept with a fully proactive & reliable solution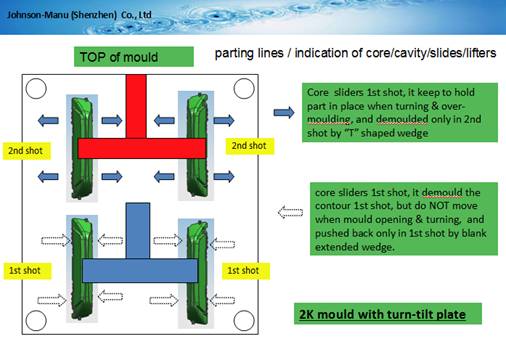 Design for Manufacturing(DFM)
draft analysis
sink mark analysis
improper design causing sharp steel
improper design failing to demould
design optimization to simplify parting line&mould structure
review 2D part drawing with tolerance/surface finish/gate/parting line/other notes.
review material datasheet to findout shrinkage,color,injection parameters.
review injection machine datasheet
review other written/oral requests from our customers
Stringent cooling advice to minimum deformation and cycle time
3D solid mould deisgn with UG NX 7.0
further optimisations with a thorough consideration.
tolerance adjustment as per 2D part drawing
all part colored and identified ---easy review + followup
strictly follow the standard and style of each customer
review process manufacturing capability to 3D design
Flow analysis , deformation analysis
Deformation analysis showed part deformation in X/Y/Z direction with 2 options of gate position,then we can know proactively which option is better,and do further optimizations accordingly.
Flow analysis can help us find a optimal gating solution on gate position,gate size and runner size, especially for family mould.